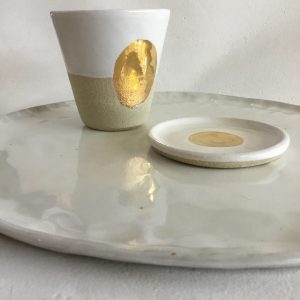 Gemma Ruth Pettiford is a ceramic artist who works from her home based studio in Coonamble, rural NSW Australia.  Producing handmade, mainly wheel thrown functional ceramic pieces in stoneware and porcelain clays.
Each piece is individual and lovingly handmade, any 'imperfections' are a part of the artwork and contribute to the quality and beauty of the piece.
Gemma Ruth's Ceramics are dishwasher and oven proof, although hand washing recommended for any lustre and general longevity.
Gemma Ruth was extremely excited to be invited to make ceramics for His and Her Royal Highness The Duke and Duchess of Sussex , Harry and Meghan when they visited Dubbo NSW Australia in October 2018.  The Duke and Duchess used Gemma Ruth's Royal Range, including Tea Cups, small spoon rest dish, Platters, Blush Pink Bowls and Royal Spoons in a private room for their lunch after their visit with the public at Dubbo's Victoria Park.
Her Royal Highness The Duchess of Sussex, Meghan commented that the 'ceramics were beautiful'